Sale!
Les Zig et Zag musical activity dog – Moulin Roty
$78.95
or 4 payments of $14.99 with Afterpay
In stock
Description
Recommended age: Suitable from birth
The Zig et Zag musical activity dog would make a very special gift. To activate the music, pull the fabric tab on the dog's side and a melodic, classical tune will play as the cord retracts (approx 1.5 minutes).
The musical dog is a great toy to help stimulate and develop sensory awareness. As well as the musical component, the dog provides a rich palette of different fabric textures – boa fur, terry fur, curly fur velour and jersey.  There are also two fabric knots with scrunchy paper inside. Also included is a fabric strap (fastened with velcro) so the musical can be hung on a cot, pram or play gym.
To view the full Zig et Zag range, click here.
Size: Approx 27 cm high (from top of ears to feet)
Care instructions: Spot clean with a damp cloth. (The musical mechanism should not be submerged in water).
Designed in France by Moulin Roty.
Les Zig et Zag
On the route through the highlands of Mongolia, you will come across an unusual horse, a rather curious dog, a story-telling sheep and a musician. Originating from a snow covered land where the moon brings a touch of magic to night-time!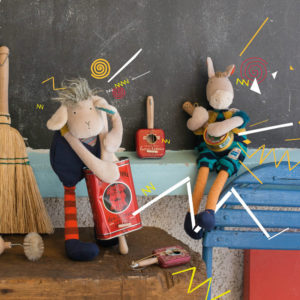 The music from their banjo warms the night air and whispers sweet melodies in baby's ear, lulling him or her to sleep . . . This nomadic group exchange stories around the campfire – let them share their new adventures with you!