Sale!
Les Zig et Zag large activity horse – Moulin Roty
$159.95
or 4 payments of $31.24 with Afterpay
In stock
Description
Recommended age: from birth
The adorable large activity horse from Moulin Roty's 'Zig et Zag' range, would make a very special gift for a baby in its first year.
Featuring a range of different elements and activities, it provides the opportunity for various sensory experiences that will help to stimulate baby's sense of touch, hearing and visual perception.
In addition to the range of fabric textures, the Zig et Zag activity horse includes 'scrunchy' ears, a guitar rattle, a colourful ring rattle, a squeaky mouse tucked away in horse's saddlebag, a soft mirror and numerous fabric tags and knots.
Larger than life, and such a friendly soul, the activity horse will have a real presence in your baby's world.  His contrasting colours, which will attract baby's attention, and a neutral toning will make a lovely addition to any nursery.
Length: 47 cm long x 52 cm high (when standing)
Care instructions: Hand wash or machine wash on a delicate cycle.
Designed in France by Moulin Roty.
Les Zig et Zag
On the route through the highlands of Mongolia, you will come across an unusual horse, a rather curious dog, a story-telling sheep and a musician. Originating from a snow covered land where the moon brings a touch of magic to night-time!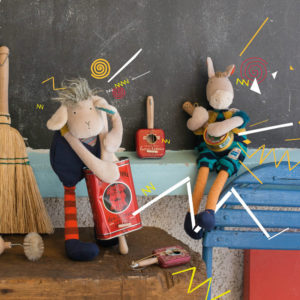 The music from their banjo warms the night air and whispers sweet melodies in baby's ear, lulling him or her to sleep . . . This nomadic group exchange stories around the campfire – let them share their new adventures with you!