Sale!
Les Zig et Zag activity drum – Moulin Roty
$45.95
or 4 payments of $9.13 with Afterpay
Out of stock
Description
Recommended age: Suitable from birth
The Zig et Zag activity drum features a range of different elements that will be perfect for developing your baby's senses in the first six to twelve months.
This brightly coloured toy features a soft, phthalat-free, plastic teething ring to sooth your baby's sore gums during teething, a mouse that squeaks when squeezed, a soft mirror, and fabric ties that make a 'scrunchy' sound. The activity drum also has a bell-like rattle, encased within. The 3 attached fabric balls add to the variety of colour and textures provided. The activity drum also has a strap for attaching the toy to a cot, pram or baby gym.
The activity drum is a great toy to encourage exploration and to help to build important neural networks in the first year of your child's life.
Size: Drum is approx 12 cm diameter (excluding attachments)
Care instructions: Hand wash, cool.
Designed in France by Moulin Roty
Les Zig et Zag
On the route through the highlands of Mongolia, you will come across an unusual horse, a rather curious dog, a story-telling sheep and a musician. Originating from a snow covered land where the moon brings a touch of magic to night-time!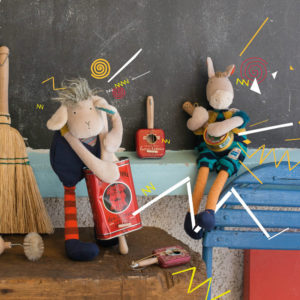 The music from their banjo warms the night air and whispers sweet melodies in baby's ear, lulling him or her to sleep . . . This nomadic group exchange stories around the campfire – let them share their new adventures with you!