Description
Recommended age: Suitable from 6 yrs +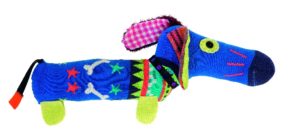 This quirky craft kit is a great mindful activity for an older child. Included in the box are all the materials and instructions your child needs to make this quirky, colourful sock dog.
The Zanimos make your own dog would suit a child who is interested in craft or textiles. It would be a great rainy day activity or something to occupy your child during holidays.
This toy will help to develop your child's fine motor skills, design skills and problem solving skills. It will also develop their self confidence through mastery and accomplishment.
Size: Approx 23 cm
Care instructions: Spot clean with damp cloth when necesarry once assembled, air dry.
Designed in France by Moulin Roty.