Sale!
Les Pachats – purple slippers – Moulin Roty
$34.95
or 4 payments of $6.99 with Afterpay
In stock
Description
Recommended age: 0 – 6 months
Moulin Roty's Purple Slippers in the 'Les Pachats' range are perfect for little baby feet! Made with soft, pink and purple velour, these would be perfect for a gift for an infant from 0-6 months! Attached to these slippers, there are pieces of patterned fabrics for little ones to discover and play with. These gorgeous Purple Slippers will have baby playing with their feet all day!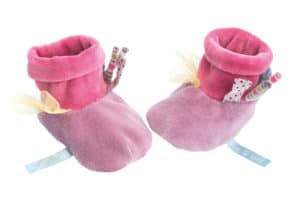 The slippers will keep baby's feet warm and toasty in style!
Size: Approx 10 cm long
Care instructions: Wash on a delicate cycle
Designed by Moulin Roty, France