Les Pachats' Minoucha cat comforter – Moulin Roty
$58.50
or 4 payments of $14.63 with Afterpay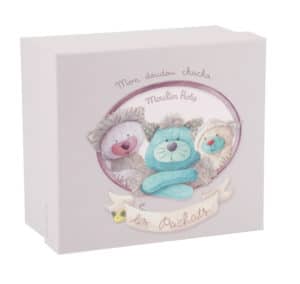 In stock
Description
Recommended age:  Birth+
The 'Les Pachats' Minoucha cat comforter comes in a beautifully illustrated presentation box and would make a lovely christening gift or gift for a newborn. The comforter would be suitable for either a girl or a boy.
The Minoucha cat comforter is luxuriously soft. Minoucha's body, which forms the flat 'blanket' component is made from slightly shiny two-toned fur, backed with a soft grey velour. Minoucha's head and arms are also made from velour. (Please note that the Minoucha cat comforter is not a doll – only the head and arms are filled.)
Knitted jersey and ribbon tags, cotton poplin lined ears and a fur-tipped swishy tail all add to the variety of different elements and textures in this comforter. Perfect for little fingers to explore.
As always in Moulin Roty ranges, facial features are embroidered for safety.
Comforters are a wonderful way to help an infant feel safe and secure during times of stress and change, or times of separation such as bedtime or day care.
To see the full Les Pachats range click here.
Size: 22 cm long
Care Instructions: Machine washable on a delicate cycle.
Designed by Moulin Roty, France and made from fabrics sourced in France and Europe