Sale!
Les Pachats Blue Cat doll – Moulin Roty
$74.95
or 4 payments of $11.24 with Afterpay
In stock
Description
Recommended age: Birth +
Moulin Roty's Blue Cat doll from the 'Les Pachats' range was just made for cuddling! Along with a soft, turqouise velour, he features an incredibly soft two-toned fur on his head, upper body and tip of his tail. Highlights of cotton, jersey and knit add to the variety of textures and colours and facial features are embroidered. To demonstrate just how friendly this Blue Cat can be, on his shoulder sits a cute little mouse enjoying the company and the view!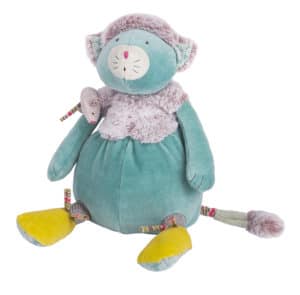 What a lovely gift idea for a newborn or young child.
To see the full Les Pachats range click here.
Length: 33 cm
Care instructions: Machine wash on a delicate cycle
Designed by Moulin Roty, France